To build scaled 1:1 prototypes is an old tradition of Grenoble's Architecture School since the 70s. Experimenting the earth construction and other innovations with students, they worked on many projects in France but also in developing countries. The SDE was the opportunity to come back in known lands with a reinforced goal: the necessity to change our practices toward energy efficiency solutions and to promote them.
After Armadillo box for the SDE10 and Canopea for the SD12, Terra Nostra was part of the same process for the 12th world congress on earthen architecture, which took place in 2016 in Lyon, France. Terra Nostra is a part of the pedagogy through experimentation developed by Grenoble's Architecture School. For this project and through experimentation, students were encouraged to think about new forms of sustainable housing and to propose housing projects energetically efficient, integrating the notion of economy: do more with less.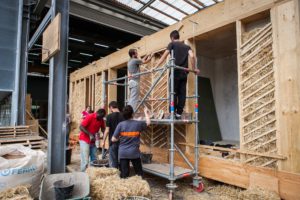 Besides the sustainable part, Terra Nostra, as Armadillo box and Canopea, take up the challenge to make work together students from various formations on a complex project, requiring team cohesion and human relations qualities.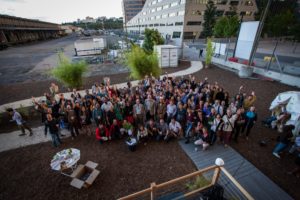 As initiated with Canopea in 2012, the prototype of Terra Nostra is a part of a global project which takes place in an existing site. This project proposes an evolutionary social habitat, thought so that it could evolve with time and adapt to the context (the family grows, the housing becomes a coworking space, etc…). Built with wood and earth, Terra Nostra demonstrate an economic, comfortable, and efficient building in an urban environment. As it's two little brothers, Terra Nostra is composed of a core, the technical part with the kitchen, the bathroom, and the mechanical systems. A skin, the thermal and low-tech envelope. And a shell, the high-tech part, protective and capturing the solar energy.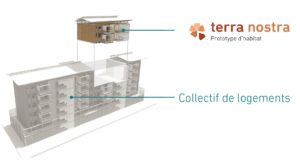 (From left to right : Core, Skin and Shell)
In short, Terra Nostra is:
2 floors
320 m² with 180 m² indoor
realized in 10 months
built in 4months in the GAIA
3 weeks of assembly in July 2016
4 months of exposition
3000 visitors
Today, the unit demonstrator has been moved to Grenoble, and serves as the home of the locals, a place for the district's inhabitants to gather. Evidence that this building can evolve with the actual demand.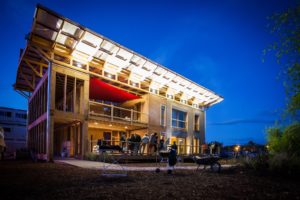 For more informations about Terra Nostra :  https://issuu.com/sylvainmgz/docs/terranostra_livret_mongellaz_sylvai?fbclid=IwAR1cseOSNS6sx6a6vkEVeqL1ZFpL52luCJIRni8ZxNTsKwEYbbfQwUQNP5k